Celebrating the efforts of our Forest restoration team this National Tree Day.
What better way to celebrate National Tree Day on 31 July than by calling out the work of our Forest restoration team and specialist crews.
Over the past three years the teams have painstakingly collected and stored six tonne of seed so it can be ready to grow our nationally distinctive, but highly vulnerable, Alpine and Mountain Ash forests after fire or disturbance.
Collection of the seed will continue for three more years and is part of the Forest Restoration Project, one of the largest forest restoration efforts in Victoria following the 2019/20 fires.
The fires burned 83,000 ha of fire sensitive Alpine and Mountain Ash forest across state forest and National Park, creating concern that without action they could become locally extinct.
DEECA, supported by Parks Victoria, VicForests and the University of Melbourne, rapidly sowed 11,500 ha of ash forest to reduce forest loss and restore habitat.
Mature eucalypt species can typically regenerate after a high severity fire by resprouting or dropping seed which grows into seedlings.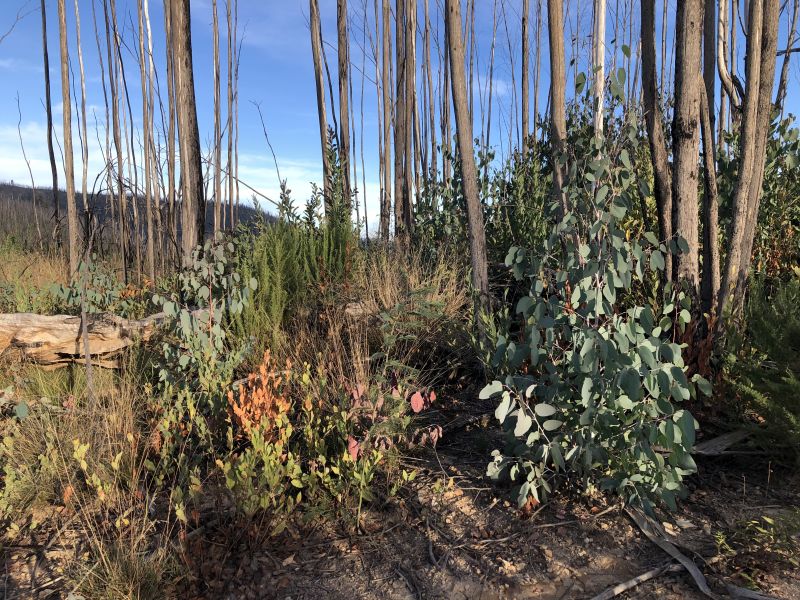 For the eucalypts that only regenerate from seed, like the Alpine and Mountain Ash, successive fires can make immature trees vulnerable as they are not old enough to regenerate naturally.
The areas impacted by the fires were assessed and prioritised and seedbed and biodiversity values were considered. Decisions on where to sow were supported by University of Melbourne-led modelling of Ash refugia under different climate change scenarios.
Although our eucalypts look the same, each part of the forest has a unique seed type.
Specialist seed sourcing and climbing crews have worked across the High Country areas each season, collecting from a range of areas and seed provenances, in both National Parks and State forest. While not part of the restoration project, the crews also recovered seed from trees which fell during the storms in the Dandenong Ranges.
The collected seed is replacing stock used in the 2019/20 reseeding effort and will build up stock for the future. The seed is stored in climate-controlled facilities in Laverton North and Mansfield.
Researchers have also monitored seed collection activities and the regenerated areas with good results recorded to date.
The project is being supported by the Victorian Government's $7.7 million of recovery funding and $4.5 million from the 2022/23 State Budget.
Preparation for future forest recovery will continue to be important. Over 80,000 ha of immature ash forest remains within Victoria, 43,000 ha of which is within the 2019-20 fire area. This is vulnerable to fire over the next 20 years.