Protecting the Hanging Rock precinct
Hanging Rock Strategic Plan
The 50-year Hanging Rock Strategic Plan was endorsed on 27 September 2018.
The Strategic Plan builds on previous work to prepare a master plan for the site. Through extensive consultation, it was identified that the values of the site were such that it deserved a more strategic approach following which the 50-year Strategic Plan has been prepared.
A master plan is still required and is one of the actions in the Strategic Plan. This work will now be better informed by the Plan that provides a vision for future uses of Hanging Rock and its immediate surrounds for the next 50 years.
Extensive consultation with the community, the Traditional Owners; the Dja Dja Wurrung, Taungurung and Wurundjeri, and Macedon Ranges Shire Council over the past three years has contributed to the development of the plan.
The 50-year plan pays respect and recognition to the Traditional Owner's cultural values and practices after a century and a half of Crown land management.
To deliver on the Plan, several implementation actions are required over a twenty plus year period. An implementation plan will be produced through workshops and further consultation with Traditional Owners, Council and other key stakeholders.
Hanging Rock Strategic Plan (Accessible version) (DOCX, 7.4 MB)
Master Plan
DELWP and Macedon Ranges Shire Council are working with the community to develop a Master Plan for the Hanging Rock Precinct. The Master plan is now in the final stages. The aim of the Master Plan is to retain the precinct's international reputation as a popular local and tourist destination that has strong social, cultural and environmental values. The Master Plan will also provide a strategy for the long-term direction and investment needs of the precinct.
The objectives of the Master Plan are:
acknowledge and enhance the environmental, social, historical and economic values
engage the key stakeholders and broader community
identify planning framework and other strategic directions
explore opportunities for financial self-sufficiency
articulate precinct vision and values
provide the land use direction for activity and built form
Options Paper
Consultation on the draft Hanging Rock Master Plan – Options Paper was held in August and September 2017.
Draft Hanging Rock Master Plan – Options Paper (PDF, 17.7 MB)
The draft Options Paper explored a range of options for the arrangement and improvements for Hanging Rock - our world renowned landmark with strong social, cultural and environmental values.
Review of the Hanging Rock precinct
Project Milestones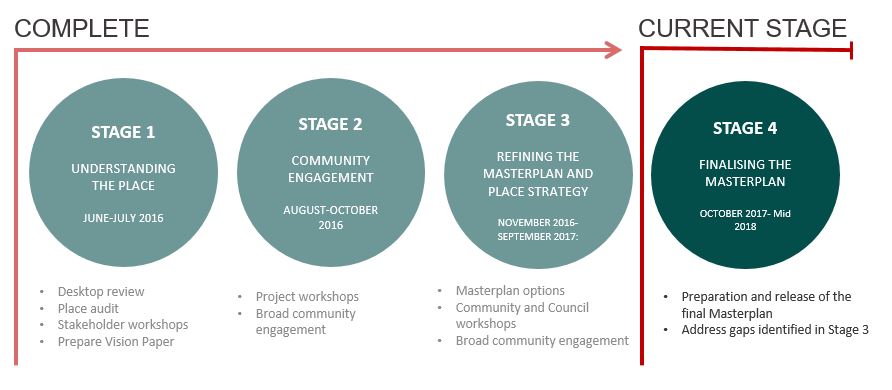 Page last updated: 06/03/19